We prepare and encourage our students to audition for various orchestras and musical shows, perform at NMA recitals and to share their talent with the community. The results of their musical commitment and talent are often impressive. These students have shown outstanding achievements in the past year.
Providence Bruins Game Performance of our Voice students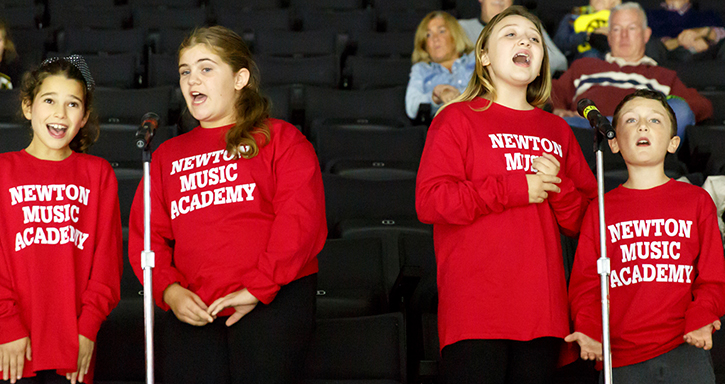 Thanks to NMA Students for singing at the Providence Bruins game! It was so much fun!
Rebecca Patsenker, Voice
Click to view Rebecca's recent jazz solo performance from the Broadway musical "Chicago" with the orchestra.

Rebecca has been studying piano and voice at Newton Music Academy for 11 years. She started with classical voice training and lately moved into jazz style.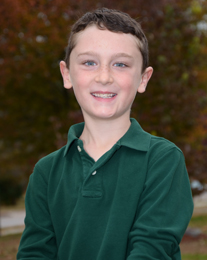 Gavin Swartz, Voice
Gavin is honored and excited to be making his Broadway debut!! See more about "Matilda The Musical in New York".
Gavin was also awarded the role of Little Gavroche in Les Miserables at North Shore Music Theatre, and excited to be cast in Titanic with Woodland Theatre Company in Spring 2015! His roles include Charlie Brown in "You're a Good Man, Charlie Brown".  His past shows performances include "Beauty and the Beast", "Fame Jr.", "Mulan", and "Charlotte's Web". He also sings in school musicals and enjoys musical workshops in the summer.
Gavin started with Musical ABC since he was 5 years old, then has taken private private singing and piano lessons at Newton Music Academy for the past six years. He would like to thank Newton Music Academy for its wonderful music programs and mentoring. When Gavin is not on stage you can find him playing sports, especially baseball, basketball, and golf.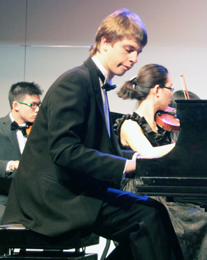 "I have been studying at Newton Music Academy for ten years now and loved my experience there." read more
Jonathan Patsenker, Piano
During his 11 years at NMA Jonathan studied classical and jazz piano, as well as clarinet, saxophone and guitar. He is the winner of the UMASS Lowell K-12 Composers Competition for a modern piece for a jazz band. His most recent performance was a solo of Grieg's 1st Piano Concerto with the orchestra. He is the founder of Travelling Concert Hall, a non-profit organization.He organised Wayland High School Talent Show which raised over $3000 for the Leukemia and Lymphoma Society two years in a row.His "Concerts for the Wise" became the longest running program, playing over 15 classical and jazz concerts across various senior homes.
He also had fun playing piano with his middle and high school jazz ensembles, and clarinet in his middle and high school bands as well as the Junior District Band.
read more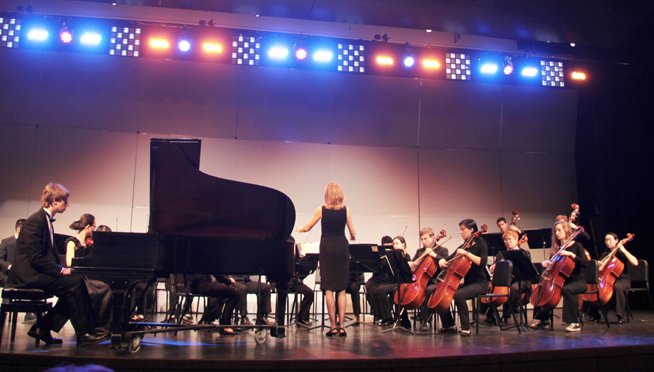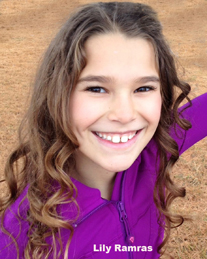 Lily Ramras, Voice
Lily's stage experience includes singing Annie in "Annie Jr." at the Stadium Theater; Vocal soloist & dancer for The Dream Tour, Friends of Broadway, SAMM Productions; Bookseller & Fagin's gang in "Oliver" at the Dover Foundation; July in "Annie" at Needham Community Theater; soloist in the Young Actors Academy Cabaret at the Stadium Theater; Mike Teavee in "Willy Wonka Jr.", Schodack Summer Theater; Brainiac in "High School Musical Jr." with the Next Generation Theater and various roles with the Freelance Players. When not performing, Lily loves cheerleading, playing clarinet, horseback riding, skiing and creative writing. Lily has been training at Newton Music Academy for two years and thinks the NMA voice program is extraordinary!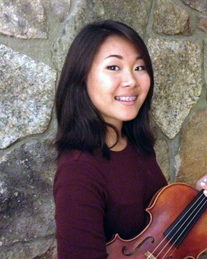 Carol Liang, Violin
Carol Liang has been studying violin at NMA for 7 years and has performed at such venues as Boston Symphony Hall and the MIT Kresge Auditorium. It is her 4th year with the Boston Youth Symphony Orchestra (BYSO). Over the last few years she has also performed at senior housing centers such as Sunrise of Wayland and Avalon Natick. During the summer she enjoys music and orchestra camps in Maine and Massachusetts. She also loves teaching kids!
In addition to her musical pursuits, Carol is a high school sophomore and is part of the swim team, dance team, and track & field team, and helps the American Field Service. She also enjoys oil painting, reading, and spending time with her friends.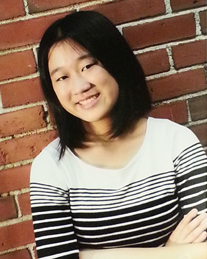 "I studied at NMA for nine years with several piano and voice teachers, all of whom have inspired me to study music in college and beyond." read more
Emily Chen, Piano
Emily Chen is a pianist and singer who currently majoring in piano performance at DePauw University, Indiana. She performed at the 2012, 2013, and 2014 New England Piano Teachers' Association Senior Recitals and has attended the Summer Youth Music School at the University of New Hampshire and the High School Piano Program at Brevard Music Center. She was student director, pianist, and singer for the Festival Singers, a community service honors chorus at Newton South High School. Emily also sang in school choruses, District Festivals, and the 2013 and 2014 Massachusetts All-State Festivals.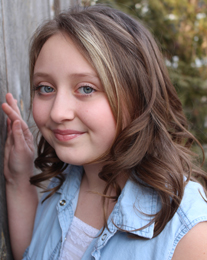 Izzy Scampoli, Voice
Izzy is starting her fifth year of voice lessons with Newton Music Academy. The exceptional training she has received from NMA has enabled her to broaden her love for singing with her love for theater. She is currently performing in Little Women with Theater III, and over the years has performed in Woodland Theater Company's Fiddler on the Roof, in Wellesley Player's Pinocchio, in Needham High School's Les Miserable and in Temple Aliyah's Joseph and the Amazing Technicolor Dreamcoat. Izzy has also had various roles with the JCC Showstoppers. When Izzy is not at NMA, Izzy is at home…singing!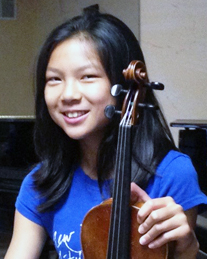 Claire Deng, Violin
Claire is 11 years old and has been studying violin at NMA for 6 years with her brilliant teacher Olga. Claire is now a concert master and the first stand in the second violin section of the Young People's String Orchestra (YPSO), a Boston Youth Symphony Orchestra (BYSO). She has performed at Boston Symphony Hall, the Tsai Performance Center, Kresge Auditorium at MIT, and at St. Mark's School.
Before she discovered violin, Claire began her music training in a singing class at NMA when she was 5 years old. She enjoys horseback riding, climbing trees, track and field, swimming, and hanging out with animals.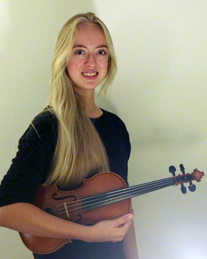 Hailey Scatchard, Violin
Hailey Scatchard has been studying violin for eight years at the Newton Music Academy. She has performed in the Boston Youth Symphony Orchestra in venues such as Symphony Hall and Kresge Auditorium. Hailey currently plays in the New England Conservatory Preparatory Orchestras at Jordon Hall. Her small chamber experiences include playing in a wedding, playing in church, and sharing the joy of music with senior citizens in a student-based string quartet which she co-founded.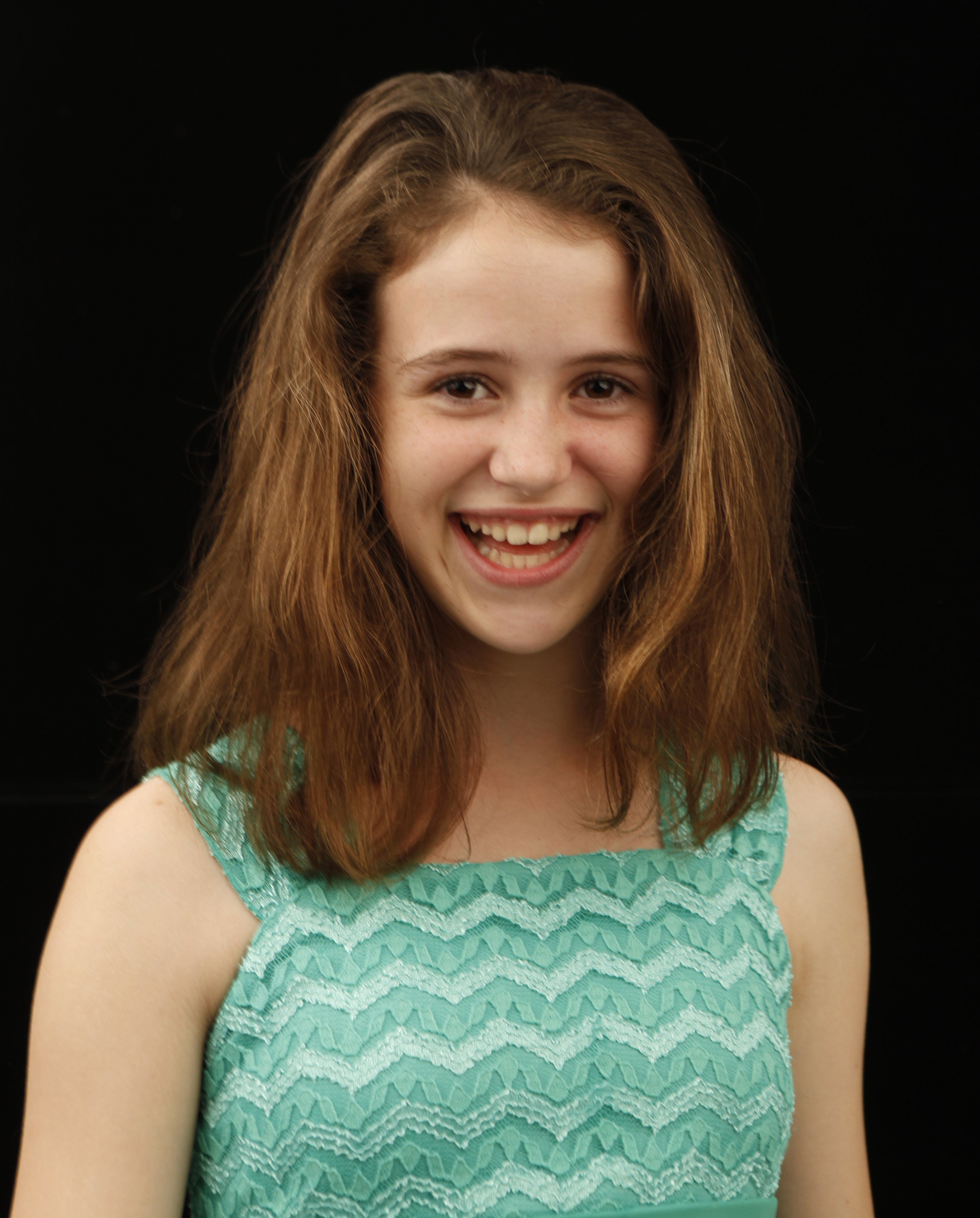 Nicola Lynch-Collier, Voice
Congratulations to Nicola Lynch- Collier for being awarded the role of Suzie in Bye Bye Birdie at Pollard Middle School! Nicola is also currently involved in Shrek at Open Door Theatre! Her most recent credits include: A Little Princess with MetroWest Family Theatre and Sleeping Beauty with Fringe Theatre in Dedham. Nicola was also awarded a DASH award for her starring role in Ramona Quimby (Ramona) with Needham Community Theatre. Some of her favorite past shows include Annie, Beauty and the Beast and Les Miserables. She has also had various roles in film and on telelvision.