Newton Music Academy was founded in 2004 by Svetlana Ostrovskaya, pianist and educator, who still serves as Director today.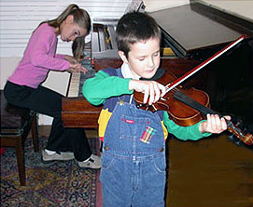 Her vision was to create a unique educational environment where solid musical and technical skills  are built in a joyful creative atmosphere, with sensitivity  to each student's individual goals and learning style.
Finding a positive way to challenge students appropriately to their interests and abilities is the most effective way to develop good results. We set clear goals and measure progress based on each student's own musical needs.
Read more about our Educational Approach.
Our school is conveniently located on the Needham – Newton border off Route 128 at exit 19A.
Over 300 students come weekly to NMA from communities including Newton, Needham, Framingham, Natick, Brookline, Wellesley, Westwood, Weston, Boston, West Roxbury, Dover, Waltham and others.
Why Newton Music Academy?
Inspiring and educating music students since 2004
We welcome all ages and levels! Many NMA students choose to continue studying music in college; some even choose to acquire a degree. Since most of our students study at NMA for many years, often taking several different classes, we have a family-like atmosphere where students feel comfortable learning from each other's performances.
A combination of excellent faculty with a noncompetitive, nurturing environment
All our teachers are Music Degree graduates of prestigious music schools and conservatories. Most importantly, all of them only teach their primary instruments for which they got their Musical Degree. Our experienced and enthusiastic instructors will carefully guide our students through every step of their learning.
Emphasis on building solid technical skills while maintaining an enjoyable learning atmosphere
Regardless of differences in musical tastes and personal preferences, each student needs to learn fundamental skills in order to develop confidence and enjoy playing. But learning doesn't need to be boring! We believe in finding the right balance between having fun while still mastering all necessary skills and learning important musical concepts.
Preparing students for auditions and recitals and improving stage presence
Students enjoy various performing opportunities from NMA Recitals to participating in a wide range of other performing events whenever they feel ready. Many of our students are accepted into orchestras, sing leading parts in theater performances, and perform in a variety of venues in the Greater Boston area.
Teaching effective practicing techniques using imagination and clear goal-setting
Once a lesson is finished, a student has to continue practicing on their own, without their teacher's help. Learning how to practice at home is critical for achieving musical progress. In trying to overcome technical difficulties, students often just mindlessly repeat difficult sections in hopes that they will eventually be memorized. However, in music, like in any form of art, first we need to imagine how we want it to sound (or "hear it in our head") before playing it. Imagining the character of the music you practice will not only speed up the learning process, but also result in a more expressive and beautiful sound.
Sensitive approach to each student's individual learning style and musical goals
All students learn differently and have different understandings of what they want to achieve through music lessons. Our priority is to identify the musical interests, strengths and weaknesses of each student, and build a lesson plan that is both effective and enjoyable for that particular student.
We carefully match students to the most appropriate class or teacher
Every teacher has a different personality, teaching style and musical preferences. The director carefully matches each student with the teacher whose style works best for them Qualities that are considered include student age, musical interests, learning style, personality and developmental level. We discuss each student's educational goals and preferences before registration.
Newton-Needham Piano Lessons, Newton-Needham Voice Lessons, Newton-Needham Violin Lessons, Newton-Needham Guitar Lessons Newton-Needham Dance Classes