Welcome to NMA!
Since 2004

, Newton Music Academy has offered top-quality Music Lessons for all ages in Needham - Newton MA.

Conveniently located

on the Needham - Newton border off Route 128 at exit 19B.

Our students

come to our music school from communities including Needham, Newton, Framingham, Natick, Brookline, Wellesley, Westwood, Weston, Wayland, Boston, West Roxbury, Dover Massachusetts.

We offer Piano, Violin, Voice, Guitar, Viola, Cello lessons & Musical ABC keyboard classes.

LEARN MORE

News & Events
SINGING/VOICE LESSONS
We prepare for Musical Theater Auditions

Newton Music Academy was recently featured on the front page of the Needham Times. A behind-the-scene look at our school and it's founder, Svetlana Ostrovskaya:
"A decade of nurturing students".
Read the full article here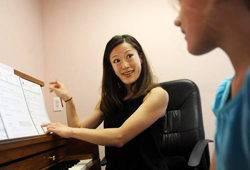 Newton Music Academy in Needham and Newton, MA
Newton Music Academy offers
Violin, Piano, Voice, Guitar (electric, acoustic), Viola, flute
private lessons in Needham MA and Newton MA,
Group Music Classes
for ages 4 & up,
Dance Classes
- Hip-Hop, Ballet, Jazz, Little Dancers and Tiny Tots for ages 2 & up, for Children and
Adults
.
Congratulations!

Gavin Swartz
(Voice) Gavin is honored and excited to be making his Broadway debut!! See more about
"Matilda The Musical in New York".
His regional performances include: Les Miserables (North Shore Music Theatre), A Christmas Story (Paper Mill Playhouse).
read more

Clair Deng
(Violin) Congratulations on your recent acceptance into YRO! Based on your placement, you are also invited you to join the 2019 New England Conservatory Summer Orchestra Institute (SOI) on Violin. Claire is now a concert master and the first stand in the second violin section of the Young People's String Orchestra (YPSO), a Boston Youth Symphony Orchestra (BYSO)
read more

Lily Ramras
(Voice) is making her Professional Theatre debut as the Little Girl in "Witches of Eastwick" at the Ogunquit Playhouse!
read more

Carol Liang
(Violin) is in her 4th year with the Boston Youth Symphony Orchestra, a top orchestra in NE for young musicians!
read more

Emily Chen
(Piano) was recently accepted as a piano performance major at DePauw University, Indiana!
read more

Izzy Scampoli
(Voice) is performing in Little Women with Theater III! She also got awarded the role of Penelope in Bye Bye Birdie at Pollard Middle School!
read more

Nicola Lynch-Collier
(Voice) Nicola Lynch-Collier has been awarded the role of Suzie in Bye Bye Birdie at Pollard Middle School!
read more
Testimonials

"I have been studying at NMA for ten years now and loved my experience there..."
read more

"The teachers at NMA are knowledgeable and passionate about their art and professional, encouraging, and supportive towards all their students."
read more

"I just wanted to thank you again for giving Lily such a wonderful opportunity singing at the Providence Bruins Game. The kids were great and represented NMA with pride! The voice program at NMA is extraordinary!... "
read more